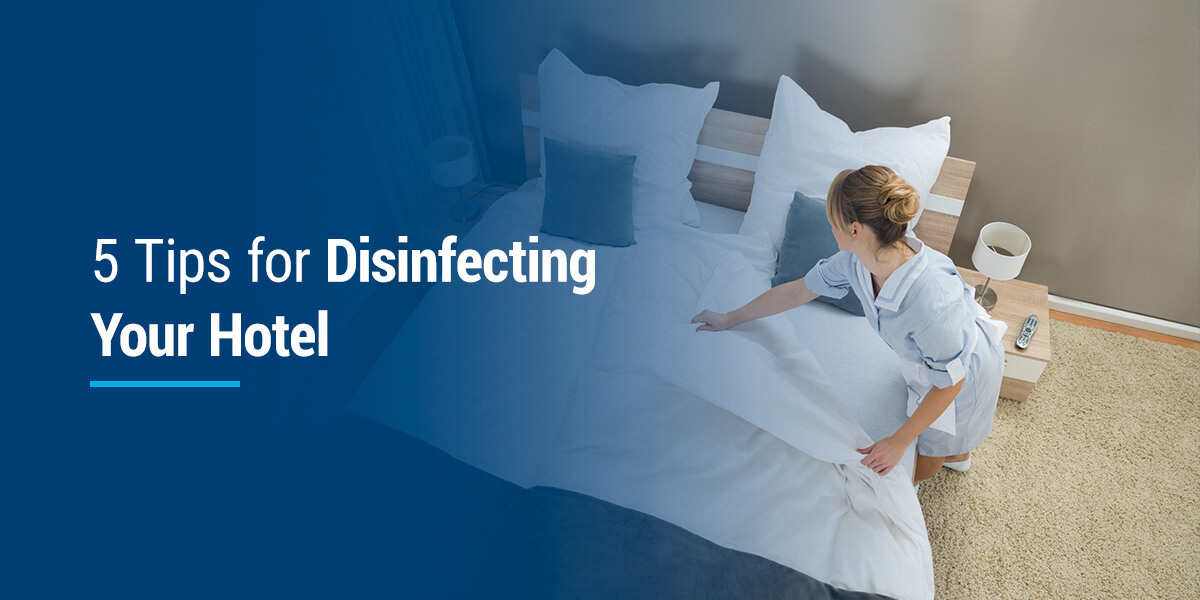 5 Expert Tips for Effective Hotel Disinfecting Plan
As vaccination rates rise, governments worldwide are starting to lift COVID-19 restrictions on travel. While the Center for Disease Control (CDC) still maintains its travel guidelines, many people are beginning to travel again.
With this uptick in travel, you're likely to have more people visiting your hotel. Although the pandemic conditions are beginning to improve, it's essential to keep your guests and staff protected.
Thorough disinfection will also improve your guest's experience, increasing your hotel's reputation and bringing in more guests. People want to stay somewhere clean when they travel — ensuring that you regularly disinfect your hotel can give your guests peace of mind. Continue reading to learn how to properly disinfect your hotel rooms to keep your guests and staff healthy and safe.
1. Develop a Cleaning Plan
Creating a cleaning plan is the first step in creating a healthy and safe environment. A strategic plan will help you stay organized in your cleaning efforts, making it easier for your staff to clean each hotel room and eliminate any infectious pathogens.
Make a deep-cleaning schedule in addition to disinfecting each room after a guest checks out. You should complete your deep-cleaning once every two or three months during your slow season, increasing your frequency as people book rooms more often. Creating a checklist and records of your cleaning schedule will help your cleaning staff know what jobs they need to do and when. The checklist and schedule should reflect the most up-to-date information available and be readily available to each staff member.
With the right level of organization and care, you'll never have to worry about the cleanliness of your hotel rooms.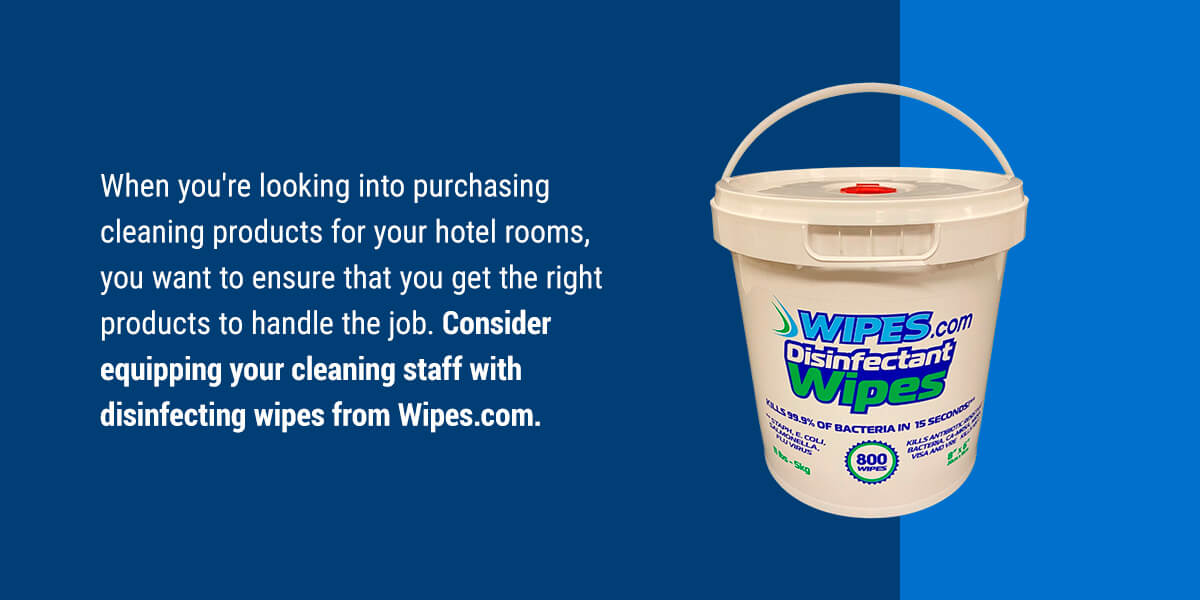 2. Get the Right Products for the Job
Your staff will need the proper tools and products to clean and disinfect each room adequately. Different surfaces require different types of disinfectants. Create a list of the surfaces in each room to determine what types of disinfectant you need to purchase.
It's essential to determine the difference between disinfecting and sanitizing wipes. Sanitizing wipes can remove germs and bacteria, reducing them to a safer level. However, disinfecting wipes kill bacteria and viruses on hard surfaces, making them an excellent choice for hotels.
When you're looking into purchasing cleaning products for your hotel rooms, you want to ensure that you get the right products to handle the job. Consider equipping your cleaning staff with disinfecting wipes from Wipes.com. These disinfecting wipes are Environmental Protection Agency (EPA)-registered and can kill the COVID-19 virus on non-porous surfaces with 30 seconds of contact. They can also kill 99.99 percent of bacteria when contact lasts 15 seconds or more.
The benefits of these wipes include:
Multiple applications: Our disinfecting wipes are free of bleach, alcohol and phenol, allowing you to wipe down anything from electronics to desktops. They're safe to use on various surfaces, including plastic, plexiglass, metals and laminates.
Safety: Disinfectant wipes are an excellent alternative to soaps, liquids, sprays or other cleaning materials that might create an additional mess. Your cleaning staff can pull one of these wipes from the package or bucket dispenser without the need for personal protective equipment. The large sheets allow you to clean surfaces without worrying about skin exposure to infectious pathogens.
Quantity: You can buy these disinfecting wipes in bulk to ensure you have enough to clean each room efficiently. Keeping each hotel room clean for the next guest is the best wait to ensure your guests are happy and healthy, improving your hotel's reputation and boosting business. Consider purchasing bulk wipes to ensure you always have enough on hand.
3. Clean High-Touch Surfaces
Guests touch certain surfaces in hotel rooms more than others, such as:
Doorknobs
Phones
Light switches
TV remotes
Keyboards
Most surfaces in the bathroom are also high-touch surfaces, including sinks and toilet handles. These surfaces are breeding grounds for pathogens, which can easily transfer through touch. Since these pathogens can spread quickly, it's good to have your staff wear fresh gloves while cleaning each room to help reduce the risk of transmitting infections.
If your staff is using disinfectants, it's essential to follow the directions on the label. All disinfectants used should be registered and approved by the EPA. Consider using disinfectant wipes so staff can clean in one pass, reducing the risk of picking up and spreading infectious viruses or bacteria.
Staff should take care to disinfect regularly. Focusing their `cleaning efforts on high-touch surfaces is the best way to prevent the spread of viruses and bacteria while ensuring each room is as clean as possible.
4. Open a Window for Ventilation
Opening a window can do a lot to help in the cleaning process. As fresh air filters into the room, airborne pathogens can escape. Filtering clean air into the room is especially crucial during the pandemic as COVID-19 particles can linger in an area for hours. Something as simple as opening a window can help you solve this problem, further ensuring your guest's health and safety.
5. Invest in Proper Training and Certification
Training can go a long way in protecting your staff and guests. Take the time to train your staff to clean surfaces and utilize the cleaning equipment properly. With proper training, your staff members will know how to prepare each room for the next guest.
You can also commit to an accreditation process to ensure you're prepared to handle, respond to and recover from a biorisk such as having a potential COVID-19 outbreak in your hotel. This process will help you create strategic cleaning, disinfection and infection prevention plans, keeping your guests and staff in good health. Having official certification will let your guests rest assured that you're doing everything in your power to protect them from infectious pathogens.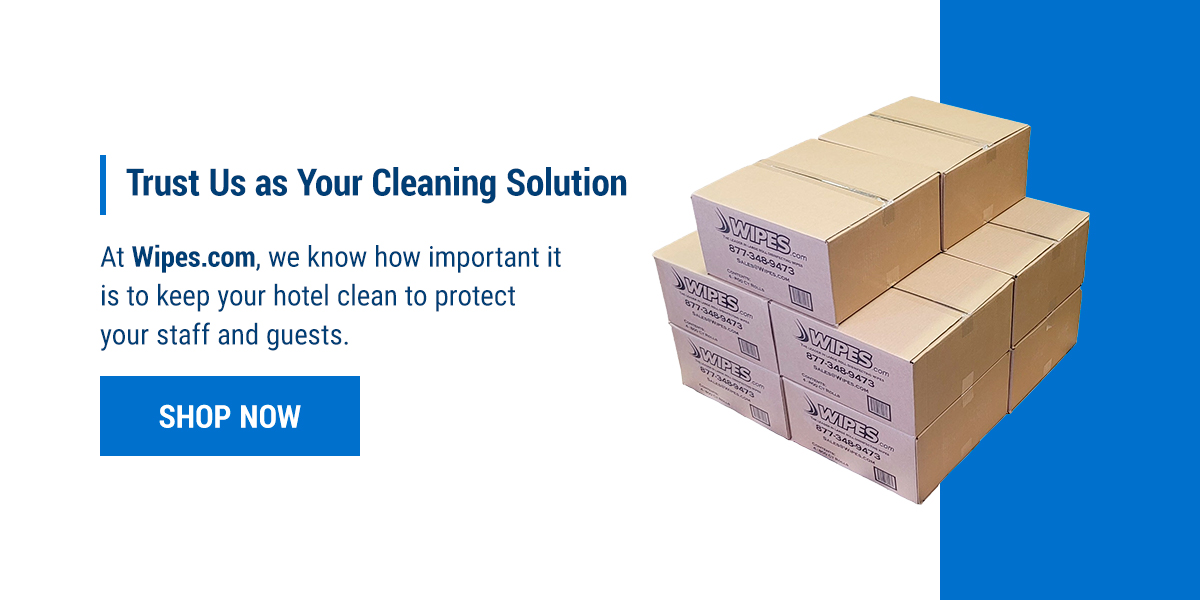 Trust Us as Your Cleaning Solution
At Wipes.com, we know how important it is to keep your hotel clean to protect your staff and guests. We offer our clients a solution to many of the cleaning challenges they may face. Our disinfecting wipes are ideal for cleaning various non-porous surfaces, killing 99.99 percent of bacteria and infectious pathogens. Our product is EPA approved, meaning it's gone through rigorous testing and inspection to ensure its quality and accuracy.
Consider buying our wipes in bulk to ensure you have enough wipes to clean each room as guests check out. Contact us today to learn more about how we can help you maintain a clean and healthy environment for every person within your business.
Recent Posts
Protecting Food: Examples of Cross-Contamination and How to Prevent ItTen percent of the world's pop …

How to Clean a Treadmill And Other Tips to Sanitize Your Gym Whether you're a fitness …

A Comprehensive Classroom Cleaning Checklist to Keep Students and Staff Safe Schools are a breed …